We can learn a lot from Seniors, but don't ask me, ask a Senior.
It's interesting to discuss Seniors on a day like today, it's my Father's birthday he would be 107 years today if he were still alive. Today we at offthegridit helped a class of Seniors learning to use computers and technology.
I grew up with my father at 8 years old he was 66 at the time. It was just him and I at one point. So, helping Seniors is something that hits close to home. Today we got the chance to help the East Palo Alto Senior Center with the help of Mrs. Grant, Denise, Allen Sotoodeh, and more.
On this first day of computer support for the Seniors everyone decided to wing it and do a "Needs Assessement."
Ok, so here is how it went down… I arrived and Denise was working to help the class and all the students only spoke Spanish, and guess what Denise does not speak Spanish. Mind you she, has been trying her best, and doing quite well on her own at this for quite some time now. So, I stepped in and we had our first class. I offered to translate the computer ease from English to Spanish.
It was great, we focused on a just a few basic things:
Get comfortable with your computer
How to use a Mouse. Yes finding and using a good mouse is important for Everyone.
What is a browser? What is the distinction between the different browsers, and no it's not just Google…
The amazing part to me is that the areas of focus are fundamental things we sometimes teach people of all ages everyday.
Spending time to understand the needs of an older computer user you can appreciate how even the basic things like where you came from can be interesting.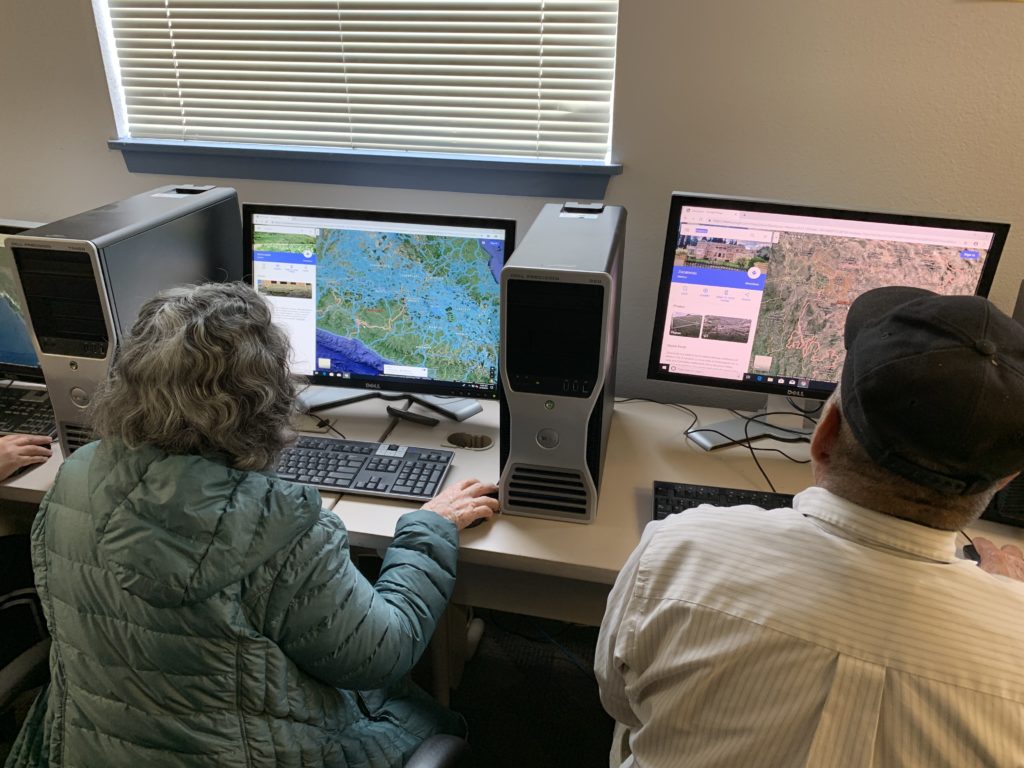 This generation of people may have never used a mouse before. I found that when the computer class started the students were sitting awkwardly in their chairs. Their mouse movements were awkward and it seemed everything was out of place. So… I said let's start by getting comfortable. I proceeded to sit everyone straight in their chair and showed each person how they should hold the mouse and be looking straightforward at the screen. Once we got past that I noticed they were more productive right away.
Rule # 1 Get comfortable
Why would you want to do anything cool, new, or fun if you are not comfortable?
There are two (or maybe three) ways to talk to and use your computer. The first two are a keyboard and mouse. These days in 2019 we also have the ability to talk to the computer and do things. What can we do with our voice on the computer?
Today in 2019 we have early versions of Voice Assistants like Amazon Echo, Apple Siri, and Google Home. You can turn on the lights in your home, or ask for a translation from English to Spanish or Chinese to English.
Now, let's not get ahead of ourselves. On this day I had the two other computer teachers (Denise and Allen.) . Neither one speak Spanish. So I made a suggestion, use the Google Translate App to ask them questions. Interestingly they both tried the Web App first, I suggested downloading the App.
When the class was started they were using Microsoft Paint on Windows 7 Computers. I could tell the Seniors were having a hard time, a program like a Paint program requires a bit more dexterity and hand eye coordination, it made it even more challenging that this demographic of people (Seniors) did not have much use of a computer mouse ever. So I suggested opening Google Chrome and going to http://maps.google.com . We practiced this first and I showed them the importance and significance of what a browser is. I made sure they understood Google is a company and that Chrome is a browser.
Moving on, we narrowed down to one place on Google Maps. (I asked myself, what would these people be interested in, so I naturally chose to do a search on "Mexico." The students were immediately enthused. This was great.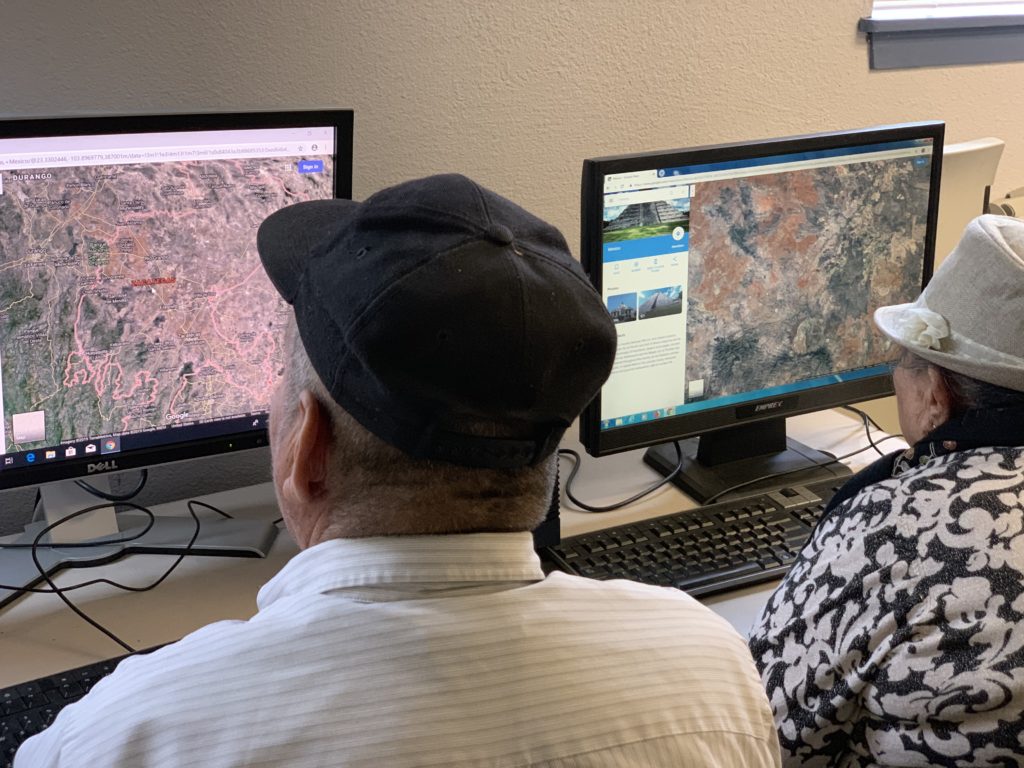 We found that they were using the scroll wheel and clicking on the images to get close ups of their areas of interest. I asked them what they wanted to zoom into and "Pedro" said Zacatecas, (Mexico.) So we showed them how to zoom into this part of Mexico on Google Maps and they seemed to naturally get the hang of using the mouse a bit more. Kudos to Google, Google Maps is an effective tool for learning more than just maps.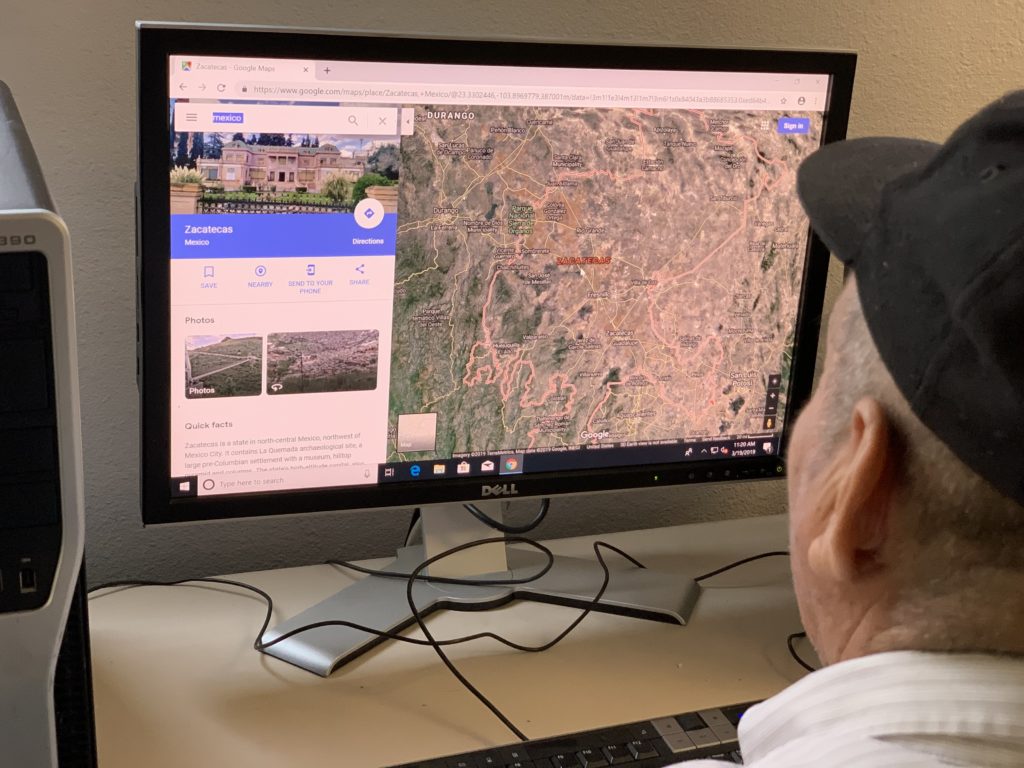 While we focused on using Google Chrome and Google maps for this exercise, we worked to create awareness of the different browsers. This is important for your security and it is sometimes what makes the difference between a pleasant working experience and a horrible not working one. Our next lessons will include Firefox from Mozilla, Microsoft Edge and Internet Explorer, and maybe the new Brave browser.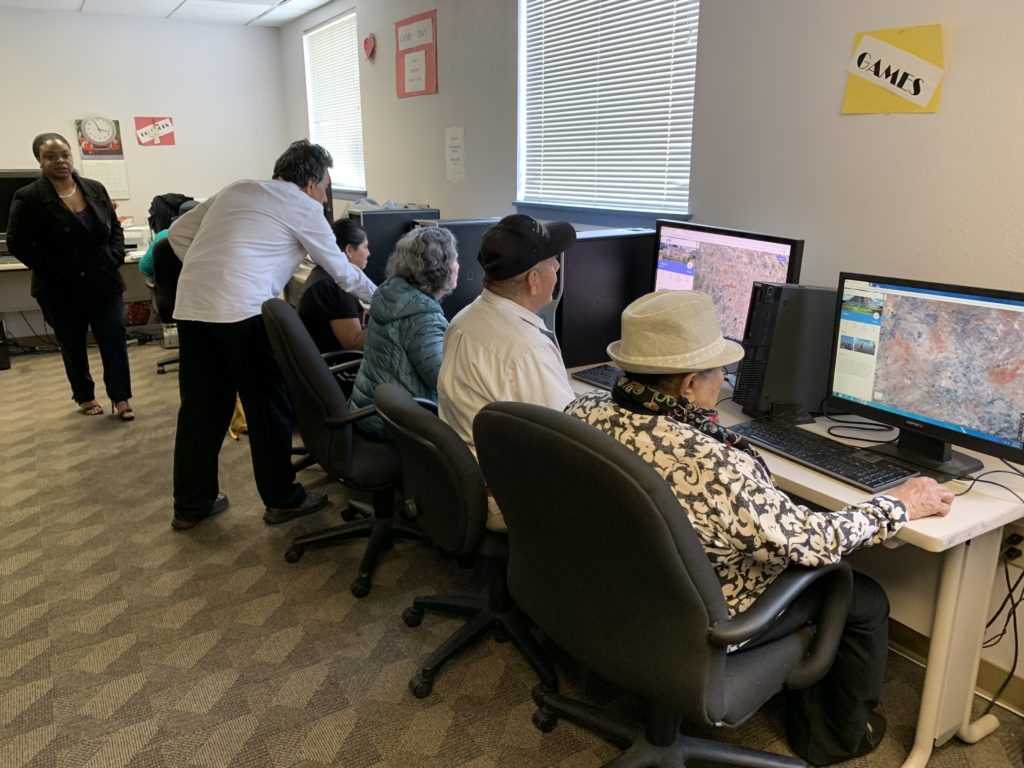 During my visit with Mrs. Millicent Grant, and the Volunteers, and Care Givers who run EPASC it was great discussing the challenges that Seniors have with Technology and how it is important to many of us. For many Seniors this is a way they can stay in touch with friends and family, and sometimes it is something valuable to keep their minds active and working, and to gain some inspiration from new technology by finding something they can relate to.
So what can we learn about Technology from Seniors?
Well it would seem a whole lot. If you get comfortable with your computer, find a topic of interest, and keep practicing at something, life can get a whole lot more interesting.
For more information on the East Palo Alto Senior Center and their Outreach Program Contact Mrs. Grant at:
EPASC Address: 560 Bell St, East Palo Alto, CA 94303 Phone: (650) 329-5900
Translated in Spanish (by https://translate.google.com/):

¿Qué podemos aprender de las personas mayores sobre la tecnología?
Podemos aprender mucho de los Seniors, pero no me preguntes, pregúntale a un Senior.
Es interesante hablar sobre las personas mayores en un día como hoy, es el cumpleaños de mi padre que cumpliría 107 años hoy si todavía estuviera vivo. Hoy ayudé a una clase de personas mayores aprendiendo a usar computadoras y tecnología.
Crecí con mi padre a los 8 años, tenía 66 años en ese momento. Solo éramos él y yo en un momento dado. Por lo tanto, ayudar a los adultos mayores es algo que llega cerca de casa. Hoy tuvimos la oportunidad de ayudar al Centro de Personas Mayores de East Palo Alto con la ayuda de la Sra. Grant, Denise, Allen Sotoodeh y más.
En este primer día de soporte informático para los adultos mayores, todos decidieron utilizarlo y hacer una "Evaluación de necesidades".
Ok, así es cómo pasó … Llegué y Denise estaba trabajando para ayudar a la clase y todos los estudiantes solo hablaban español, y adivinen que Denise no habla inglés, recuerde que ha estado haciendo todo lo posible y bastante bien. bien por su cuenta en esto desde hace bastante tiempo. Entonces, entré y tuvimos nuestra primera clase. Me ofrecí a traducir la facilidad de la computadora del inglés al español.
Fue genial, nos centramos en unas pocas cosas básicas:
Ponte cómodo con tu computadora
Cómo utilizar un ratón. Sí.


¿Qué es un navegador y no es solo Google?


Lo sorprendente es que las áreas de enfoque son cosas fundamentales que a veces enseñamos a las personas todos los días.


Dedicando tiempo a comprender las necesidades de un usuario de una computadora antigua, puede apreciar cómo las cosas básicas, como la de dónde proviene, pueden ser interesantes.

Esta generación de personas puede que nunca haya usado un ratón antes. Encontré que cuando comenzó la clase de computación, los estudiantes estaban sentados incómodamente en sus sillas. Sus movimientos del ratón eran torpes y parecía que todo estaba fuera de lugar. Entonces … dije que comencemos por estar cómodos. Procedí a sentar a todos directamente en su silla y les mostré a cada persona cómo deberían sostener el mouse y mirar directamente la pantalla. Una vez que pasamos eso, noté que eran más productivos de inmediato.


Regla # 1 Ponte cómodo
¿Por qué querrías hacer algo fresco, nuevo o divertido si no te sientes cómodo?


Hay dos (o quizás tres) formas de hablar y usar su computadora. Los dos primeros son un teclado y un mouse. Estos días en 2019 también tenemos la capacidad de hablar con la computadora y hacer cosas.


¿Qué podemos hacer con nuestra voz en la computadora?
Hoy, en 2019, tenemos versiones anteriores de Asistentes de voz como Amazon Echo y Google Home. Puede encender las luces de su casa o solicitar una traducción del inglés al español o del chino al inglés.


Ahora, no nos adelantemos. En este día tuve a los otros dos profesores de computación (Denise y Allen). Ninguno habla español. Así que hice una sugerencia, use la aplicación Google Translate para hacerles preguntas. Curiosamente, ambos probaron la aplicación web primero, sugerí descargar la aplicación.


Cuando se inició la clase, usaban Microsoft Paint en computadoras con Windows 7. Me di cuenta de que a los Seniors les estaba costando mucho, un programa como el programa Paint requiere un poco más de destreza y coordinación de los ojos con las manos, lo que hizo aún más difícil que este grupo demográfico de personas (Seniors) no tuviera mucho uso de un ratón de computadora. siempre. Así que sugerí abrir Google Chrome e ir a http://maps.google.com. Primero practicamos esto y les mostré la importancia y el significado de lo que es un navegador. Me aseguré de que entendieran que Google es una empresa y que Chrome es un navegador.

Continuando, nos limitamos a un solo lugar en Google Maps. (Me pregunté a mí mismo, en qué estaría interesada esta gente, así que naturalmente opté por hacer una búsqueda en "México". Los estudiantes se entusiasmaron de inmediato. Fue genial.
Descubrimos que estaban usando la rueda de desplazamiento y haciendo clic en las imágenes para obtener primeros planos de sus áreas de interés. Les pregunté a qué querían acercarse y "Pedro" dijo Zacatecas, (México). Así que les mostramos cómo hacer zoom en esta parte de México en Google Maps y parecían entender el uso del mouse un poco más. Kudos a Google, Google Maps es una herramienta eficaz para aprender más que solo mapas.


Si bien nos enfocamos en usar Google Chrome y Google Maps para este ejercicio, trabajamos para crear conciencia de los diferentes navegadores. Esto es importante para su seguridad y a veces es lo que marca la diferencia entre una experiencia de trabajo agradable y una experiencia horrible que no funciona. Nuestras próximas lecciones incluirán Firefox de Mozilla, Microsoft Edge e Internet Explorer, y quizás el nuevo navegador Brave.


Durante mi visita con la Sra. Millicent Grant, y los voluntarios y cuidadores de EPASC que dirigen EPASC, fue grandioso discutir los desafíos que los adultos mayores tienen con la tecnología y la importancia que tiene para muchos de nosotros. Para muchas personas mayores, esta es una manera de mantenerse en contacto con amigos y familiares, y algunas veces es algo valioso para mantener sus mentes activas y trabajando, y para obtener algo de inspiración de la nueva tecnología al encontrar algo con lo que puedan relacionarse.

Entonces, ¿qué podemos aprender sobre la tecnología de los adultos mayores?
Bueno, parece mucho, si te sientes cómodo con tu computadora, encuentras un tema de interés y sigues practicando en algo, la vida puede ser mucho más interesante.

Para obtener más información sobre East Palo Alto Senior Center y su programa de divulgación, comuníquese con la Sra. Grant al:

Dirección de EPASC: 560 Bell St, East Palo Alto, CA 94303 Teléfono: (650) 329-5900