Come on Apple, get it together!
If you are a new iPhone user, you may still have to use your iPhone and get to the point where your phone is overloaded with pics, or you just want to get the beautiful pictures off your phone without using the Cloud.
For long time Apple iPhone users you will know what I am talking about.  Apple tells you the following:
Apple Tells You:
1.  Use Apple Photos for your pictures
2.  Use Apple iTunes for your music
3.  Use an Apple Lightning cable to connect your iPhone to your computer and do either of the items above 1., and 2.
The Problems
Well, therein lie the problems.  I have had to digress and remember that I say it time and time again, Apple does not let you do what you want to do, they think they know what you want.  Well Apple, I can say this with certainty –Apple, you do not always know what we want.
Sometimes I just want my pictures and the Apple Finder does a great job of allowing me to just highlight a picture and just press the spacebar, and whalla! I can see a full size rendering of my picture without opening it in an app.  I can tell you this is the fastest way to peruse pics on a Mac.
But what if I want to take some pictures from my iPhone to my Mac?  Why would I not just e-mail them or put them on the Cloud?  Come one Apple!!! WHAT IF –I don't want to fill up my e-mail box, or use the Cloud!
So, what is a Power User to do?  Well you can use a program called Apple Image Capture, plug in your iPhone, and use Image Capture to Import all your iPhone or iPad pictures to your computer.  But here is where this blog posting started to take shape.  Apple has really screwed this all up.  Here is my take on this:
Mike's Take On the Situation:
I do not like or use the Photos app anymore it is just too bloated (the Apple photos eco-system was much different when it was "iPhoto"), things have changed for the worse since Photos.  I help clients with it from time to time, but we have discovered alternatives to managing our Pictures and Media with things like Plex, Google Photos, and Microsoft OneDrive.
I don't use iTunes much anymore unless I am forced to backup my iPhone, or load some music on my iPhone for offline listening when there is no Internet or cell signal.   People tend to use Apps that sync with the Cloud (like Pandora or Spotify for offline listening), and having to sync your phone with a cable or even wirelessly is flawed so I gave up on Apple iTunes as well.

Lightning cables suck.  The genuine Apple cables always last longer, but over time they become weak with use and you get a defective signal which renders the Lightning Cables useless.  Cheap aftermarket cables last me 3-7 days at most.  Apple really figured out a way to keep the tolerances so tight on their Lightning cables that any 3rd party would be hard pressed to keep up. We have proven this time and time again.  Use only Apple Lightning cables or very high quality cables, but the problem there is how do you tell the difference?  There is no real way to tell the difference that I know of except from experience.  And at this time I try and buy only Apple Lightning cables, it is simply not worth the time if you need data transfer in addition to charging from the cable, the cheaper cables will cause you some grief.

The latest update(s) from Apple have only made the situation for my first 3 points much worse.  The iOS update 12.x (12.1, 12.2, 12.3) are forcing users to update your iPhone (probably to implant the secure update to prevent law enforcement from unlocking phones.)  This update causes any iPhone connection to exhibit bizarre behaviour which may be exacerbated with a weak cable.  The symptoms are a constant off/on of the charging indicator.  It is the same behaviour you get when you connect a faulty cable, but this is made worse before and during the recent Apple iOS Software Update. "


If you see "Software update is required to connect to your iOS device" on your iPhone, iPad, or iPod touch"
At this point I could not get the pictures off of my phone this evening as I wrote this post.  I had one extended length Apple cable and one standard length (and half a dozen cheap cables I gave up on over time), they all behave the same.  Like I said before even the Apple cables start failing over time.  If you only ever charge your phone with the Lightning cable you may not notice what I am describing.  But if you transfer data with these cables regularly like I do you will either know or see what I mean.
I am not so sure Apple will fix this anytime soon.  The new iPhone XS and XR still use Lightning cables, maybe they should have made the move to USB-C by now.  The did it on the new iPad Pro, and some Android phones have had it for some time now.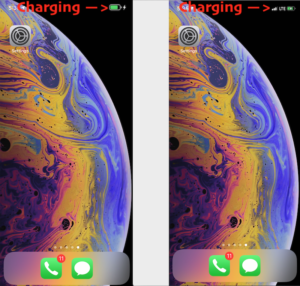 I finally just went out and bought a new Apple Lightning cable and I was able to transfer my pictures from my iPhone to my computer.  But this was 3 different lessons for me.  Thanks Apple I really did not want or need that.
Apple do you hear us?
If you want the links to thew genuine Apple Lightning cables on Amazon here they are:
  (1m Cable direct from Apple sold through Amazon)
 (2m Cable direct from Apple sold through Amazon)
 (Apple Lightning to USB-C Cable direct from Apple sold through Amazon)